Delta, an FAA ODA, specializing in Part 23/25 aircraft certification and engineering services, is now expanding its service offerings to include 3D scanning capabilities.
This new 3D scanning technology allows Delta to scan and model a multitude of parts, equipment and interiors, including avionics and electrical equipment racks, cabin interiors, fuselage sections, and even smaller brackets, hardware and connectors.
Below is an example of an aircraft wingtip modeled using the in-house 3D technology.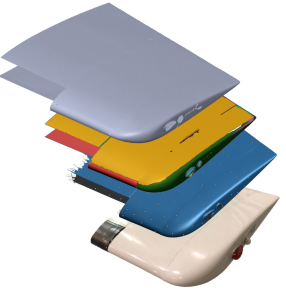 Top Level – Final CAD model of wingtip, available in many formats
Second Level – Intermediary DX model, showing surface and solid construction
Third Level – Direct scan output, showing read data
Bottom Level – Photo of scanned wingtip
Delta can scan and model your equipment, parts or aircraft as needed, completed at our facility or yours. Please see our downloads page for a copy of the brochure.
If you would like to learn more about what we can do for your project, get in touch with us.